Nota de prensa
El equipo París Panthers, ganador de la Global Champions League Trofeo CaixaBank del CSI5* Madrid
El CSI5* Longines Global Champions Tour ocupó el programa vespertino del viernes en el 112 CSI Madrid, con las dos pruebas puntuables para la Global Champions League, Trofeo CaixaBank. La competición por equipos finalizó con el triunfo de París Panthers, mientras que el equipo representativo de la sede española, Madrid in Motion, fue cuarto
Descarga fotos: https://we.tl/t-tVdcypgnPy

Descarga videos RRSS (verticales): https://we.tl/t-10UdwJQRKw

Descarga recorrido Eduardo Álvarez Aznar (mejor español): https://we.tl/t-8cWFkyg50m

Créditos: Oxer Sport

Descarga órdenes de salida CSI1 sábado: https://we.tl/t-YojhHeH0fS
Quince equipos disputaron las dos pruebas puntuables, Trofeo CaixaBank, para la Global Champions League del Longines Global Champions Tour de Madrid. Sólo dos de ellos consiguieron terminar la primera prueba, disputada sobre alturas de 1'55 metros, con cero puntos, es decir, sin que ninguno de los dos conjuntos del equipo tuviera penalización. Fueron París Panthers y Stockholm Hearts, que iniciaron la segunda prueba puntuable con una diferencia de 8 puntos sobre otros cuatro equipos.En la segunda prueba, disputada sobre alturas de 1'60 metros, tanto el equipo de la sede francesa como el de la sede sueca, mantuvieron a los mismos jinetes: Jur Vrieling y Harrie Smolders los primeros y los hermanos Olivier y Nicola Philippaerts, los segundos. Y ambos emplearon también el mismo plan con los caballos, en este caso para hacer cambio pleno.La estrategia fue más positiva para París Panthers, puesto que Jur Vrieling repitió cero con "Fiumicino van de Kalevallei" y Harrie Smolders penalizó 4 puntos al derribar el último obstáculo con "Bingo du Parc", mientras que Stockholm Hearts perdía sus opciones al sumar 10 puntos Olivier Philippaerts con "H&M Miro". Su hermano Nicola hizo cero con "Katanga v/h Dingeshof", lo que permitió al equipo de la sede sueca del circuito GCL asegurarse el segundo puesto.En tercera posición se clasificó el equipo St.Tropez Pirates, integrado por Katrin Eckermann y Simon Delestre, que terminó ambas pruebas con 12 puntos. Los mismos que el equipo de Madrid in Motion, pero el mejor tiempo acumulado en la segunda prueba, decidió que fueran los de St.Tropez Pirates quienes subieran al podio.
Madrid in Motion hizo una fantástica remontada, con un brillante doble cero en la segunda prueba, en la que Maikel Van der Vleuten utilizó a "Beauville Z NOP", en vez de "Dywis HH", con la que había corrido la primera. Eduardo Álvarez Aznar tuvo un derribo en la primera prueba con "D'Orient Batilly" y estuvo perfecto en la segunda con "Bentley de Sury". Madrid in Motion acarició el podio, pero poco más de un segundo de tiempo, le dejó clasificado en el cuarto puesto.En cuanto a las clasificaciones individuales de cada una de las dos pruebas, la primera fue ganada por el brasileño Francisco José Mesquita montando a "Catch me Marathon", mientras que la segunda fue ganada por el francés Simon Delestre con "Cayman Jolly Jumper".En la primera prueba, el español Manuel Fernández Saro se clasificó quinto con "Jarlín de Torres", mientras que en la segunda, clasificativa para el Gran Premio Longines Global Champions Tour, Eduardo Álvarez Aznar fue sexto gracias a su cero con "Bentley de Jury".
Tras estos resultados de la sede de Madrid, la clasificación provisional de la Global Champions League está muy apretada, encabezada por París Panthers con 88 puntos. Segundo es el equipo Riesenbeck International con 87 y Madrid in Motion ocupa el tercer puesto, con 86 puntos.
T
he much-awaited GCL of Madrid presented by Caixabank was a spectacular showcase of world-class talent. As the prestigious Club de Campo Villa de Madrid filled with a enthusiastic audience.
On the opening day of the Longines Global Champions Tour of Madrid the two GCL rounds of exciting and nail-biting team format kept spectators on the edge of their seats as it was Stockholm Hearts powered by H&M We Love Horses and Paris Panthers went head to head for top spot on the podium.
With Madrid and the expansive grass arena known for its unpredictability and creating fierce rivalries, it was down to the wire as the last three teams to go in Round 2 ultimately took podium positions.
Speaking of the Paris Panthers team win, Harrie Smolders spoke of the team's strategy heading into GCL Madrid."
Victory always feels great. I think with four different horses, it is not so easy. I left the door open a little bit at the end with the time but it made it even more exciting. Our's and everyone's expectations last year were very high because we have a very strong rider team. But in the end it is all about horsepower."
With the new GCL format launching in 2023, Jur Vierling spoke of how it's affecting team strategy and ultimately, results: "
I very much like this new format of having both rounds back to back. For me I did the tactic to put Fumacio in the second round because he is a little bit faster and time counts more. It is good for the horses."
He then went on to add that team manager Rob Hoekstra brings to the team:
"He plans very far ahead and he is very positive but also very strict about things, like how we ride the course in terms of speed. So far it is working fantastic."
Hoekstra then added: "
You are always very excited when you are in with a chance of winning. But a lot can happen in four rounds. The boys were incredible today - we are so so happy! We have three great riders here but these two really delivered today."
In Round one the first double clear was produced by Stockholm Hearts powered by H&M We Love Horses. Philippaerts duo of Olivier and Nicola showed everyone how it was done putting them in pole position for round 2. While there were lots of other shock results for Championship contenders Prague Lion's when Niels Bruynseels had a run out at the penultimate fence costing the team a clean sheet.
Just two teams entered round two on a clean sheet, Stockholm Hearts and Paris Panthers but could they keep their heads under intense pressure and pull off a win? With the top three placed teams entering the arena as the three last to go, it was clear that was all on the line.
St Tropez Pirates, represented in Madrid by Katrin Eckermann and Cala Mandia and Simon Delestre I Amelusina R 51 in Round 1, and Cayman Jolly Jumper in Round 2, entered the arena with one thing on their mind. The Win.
Eckermann and Cala Mandia added a single rail to the team's eight fault total from Round 1, with the crowd falling silent as the flying frenchman, Simon Delestre, entered the ring. Posting the fastest clear out of all riders in round two with a blistering time of 65.57, and leaving all rails standing, Delestre and Cayman Jolly Jumper helped to carry the team in their third place.
Breaths around the arena were held as the Stockholm Hearts powered by H&M We Love Horses team entered the arena as second last to go. Brothers and dynamic duo Nicola and Olivier Philippaerts posted one of the only double clear rounds in Round 1, so were heading into Round 2 on a clean sheet. An unfortunate and uncharacteristic 10 faults for Olivier and H&M Miro saw the team secure their second place position.
Enter, the Paris Panthers. Harrie Smolders and Bingo Du Parc alongside Jur Vrieling and Fiumicino van de Kalevallei kept their cool in Round 2 as last to go. A clear from Vrieling and Fiumicino, and a single rail for Smolders and Bingo du Parc saw the crowd on their feet and the team finishing on one single rail. Leaning on tactics of both riders riding a second mount in Round 2, the question remains, was this approach the result of their success?
So the win would go to a delighted Paris Panthers team who had the perfect weekend. The GCL team series now looks to Ramatuelle, Saint-Tropez (1-3 June 2023), where fans will witness the world's best take center stage for the fifth leg of the Championship race in glamorous style.
Watch Sports Highlights here!
El programa matutino de esta primera jornada del 112 CSI Madrid constó de tres pruebas, todas ellas del concurso categoría 1*, aperitivo de la competición 5*, cuyas pruebas se disputan por la tarde.
La prueba de más altura fue el Trofeo Exterior Plus, con obstáculos de 1'40 metros, que fue disputada por 48 conjuntos y que tuvo ganador español: Ismael García Roque. El jinete canario, Campeón de España Absoluto en 2019 y 2021, salió a por todas con un caballo muy competitivo, el veterano "Baltazar D Z" y su resultado le dio una victoria muy holgada: casi cuatro segundos de diferencia respecto de la segunda clasificada, que fue la suiza Jane Richard montando a "Cortez Van't Klein Asdonck Z".
La amazona helvética fue también tercera con "Neptune de Muze" e Ismael García Roque rubricó su gran actuación en este Trofeo Exterior Plus clasificándose cuarto, en este caso con una yegua joven, la 8 años, "London's Bella".
El recorrido de la prueba resultó duro, complicado y sólo cinco binomios lograron terminarlo sin falta. El quinto cero fue el de otro jinete español, Cayetano Martínez de Irujo, que completó el cuadro de honor con "Dito".
Piedad Siegfried, directora comercial y de marketing de Exterior Plus, entregó el trofeo al ganador.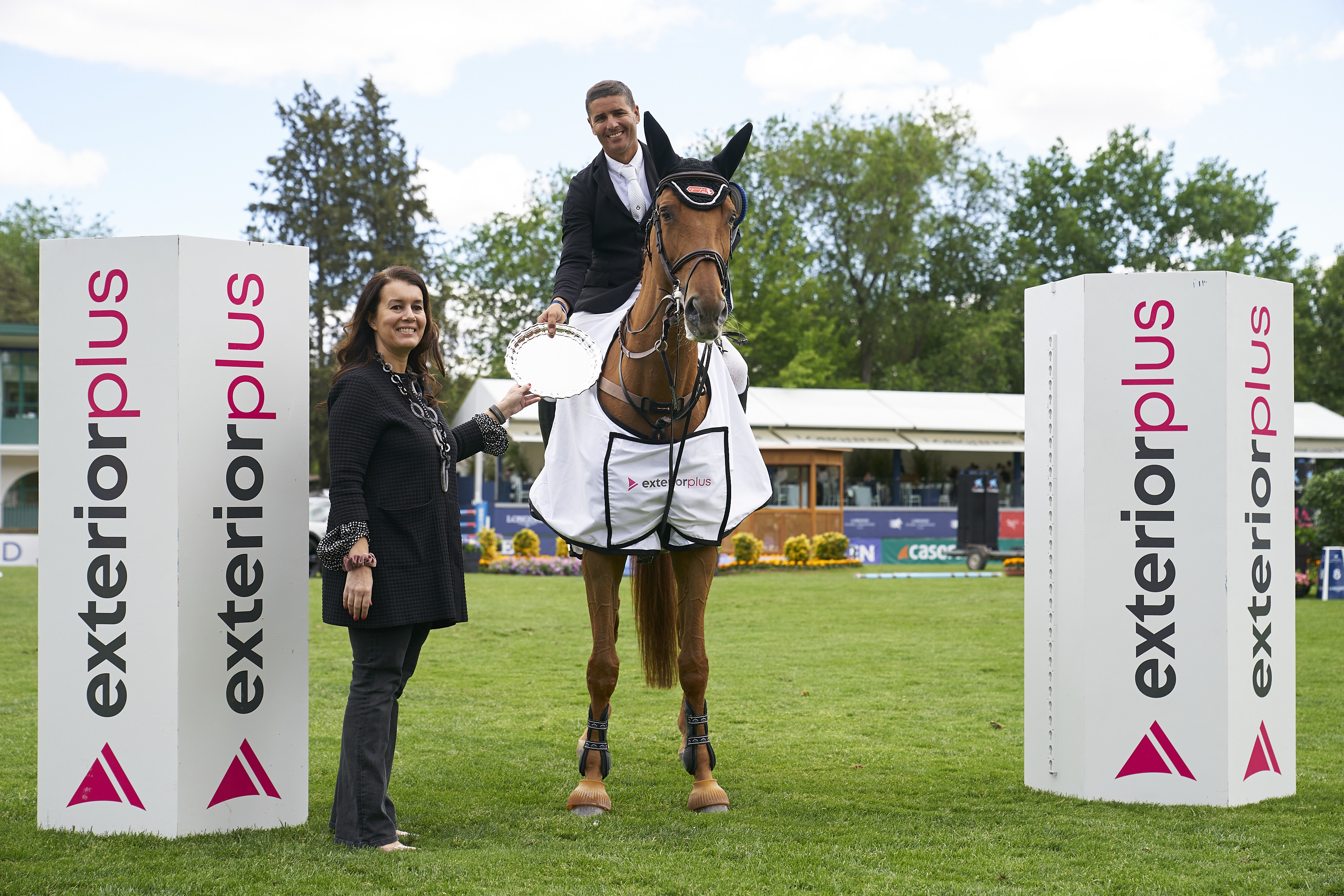 Trofeo MARCA
Fue la segunda prueba de la jornada y en ella tomaron parte 35 binomios. Como la anterior, fue juzgada según el baremo Dos Fases y 16 conjuntos consiguieron finalizar ambas fases sin penalización.
Un jinete argentino, pero afincado en España desde hace años, Juan Ignacio Alvarez Fermosel, fue el ganador. Se impuso con la yegua de Iñigo Verdugo, "Vinca Jacob", con la que cerró su recorrido en la segunda fase en 21'90 segundos. Álvarez Fermosel recogió su trofeo en la ceremonia de entrega de premios de manos de Juan Ignacio Gallardo, director de Marca.
Álvarez Fermosel tuvo como más directos rivales a dos jóvenes amazonas irlandesas, ambas vinculadas a la cuadra Hughes Horse Stud: Isabel O'Brien y Marta Hughes-Bravo. La primera fue segunda con un tiempo de 23'68 segundos sobre "Javas Gucci", mientras que la hija menor de Marion Hughes y Miguel María Bravo se clasificaba en tercera posición con un tiempo de 23'92 segundos, montando a "Miss Belgium 111".
TROFEO CAIXABANK - Second GCL Competition
Int. jumping competition against the clock (1.60 m)
Table A, FEI Art. 238.2.1 - CSI5*
Counts for the Longines Ranking - Group A
Competition counting for the GCL Ranking
Qualifying competition for LGCT Grand Prix
1.
92
Cayman Jolly Jumper
Simon Delestre
FRA
0
65.57 sec
bay / 11y. / G / SF / Hickstead / Quaprice Bois Margot / 105MZ14 / Go Horses, Philippe Berthol Agriculture
38.125,00 EUR
2.
96
Cristel
Jérôme Guery
BEL
0
66.97 sec
bay / 13y. / M / HOLST / Diamant de Semilly / Dobel's Cento / 105UF49 / Optimus Agro Nv
30.500,00 EUR
3.
72
Azaria Dinero
Evelina Tovek
SWE
0
67.08 sec
grey / 13y. / M / SF / Mylord Carthago*HN / Drakkar des Hutins / 105IU52 / Susanne Tovek
22.875,00 EUR
4.
47
Beauville Z N.O.P.
Maikel van der Vleuten
NED
0
68.62 sec
bay / 13y. / G / ZANG / Bustique / Jumpy des Fontaines / 105FS95 / Pontegadea Espana Slu Marta Ortega Perez
15.250,00 EUR
5.
3
Arioto du Gevres
Marc Dilasser
FRA
0
69.06 sec
bay / 13y. / G / SF / Diamant de Semilly / Qualisco III / 105BL05 / S.A.R.L. Equiouest
10.675,00 EUR
6.
21
Bentley de Sury
Eduardo Alvarez Aznar
ESP
0
69.80 sec
chest / 12y. / G / SF / Sunday de Riverland / Calvaro / 105LU62 / Kaliyuga S.L.
8.387,50 EUR
7.
31
Fiumicino van de Kalevallei
Jur Vrieling
NED
0
70.09 sec
bay / 12y. / G / SBS / Plot Blue / Nabab de Reve / 105LR03 / Sf Equestrian B.V.
6.100,00 EUR
8.
107
Vistogrand
Denis Lynch
IRL
0
71.01 sec
bay / 10y. / S / AES / Fantaland / Mr Visto / 105WU22 / Parco Sport Horses Est
4.575,00 EUR
9.
81
Katanga v/h Dingeshof
Nicola Philippaerts
BEL
0
71.19 sec
bay / 13y. / M / BWP / Cardento / Tornedo FCS / 105MK06 / Team Philippaerts, Familie Lens (Comm. V), Amb Holding Nv
4.575,00 EUR
10.
82
Darc de Lux
Andreas Schou
DEN
0
71.36 sec
bay / 12y. / S / HOLST / Darco / Contender / 105IC03 / Schou Absolute Horses, Westlife Ab
3.812,50 EUR
11.
49
Delux van T & L
Niels Bruynseels
BEL
0
71.90 sec
bay / 14y. / G / SBS / Toulon / Landetto / 104TT43 / Global One Horses Ltd., Niels Bruynseels
3.812,50 EUR
12.
90
Saxo de la Cour
Mike Kawai
JPN
0
72.59 sec
chest / 17y. / G / SF / Tlaloc M / Jalisco B / 103UF41 / Nichiho Think Tank Co. Ltd
3.812,50 EUR
13.
89
Clemens de la Lande
Philipp Schulze Topphoff
GER
0
73.61 sec
chest / 11y. / G / WESTF / Comme Il Faut / For Pleasure / 106LW37 / Bernd Schulze Topphoff
300,00 EUR

Total: 152.800,00 EUR

Other, non-placed competitors

14.
95
Inflame Go
Kim Emmen
NED
1
74.94 sec
bay / 10y. / G / KWPN / Namelus R / Carthino Z / 106XW66 / Harry Van De Goor
15.
20
Dubai du Cedre
Julien Epaillard
FRA
4
66.10 sec
chest / 10y. / M / SF / Baloubet du Rouet / Diamant de Semilly / 106TX21 / Perrine Cateline, Sylvain Pitois
16.
1
Mom's Toupie de la Roque
Pieter Devos
BEL
4
68.59 sec
chest / 16y. / M / SF / Kannan / Nabab de Reve / 103VO27 / Mares Of Macha
17.
61
Belano vd Wijnhoeve Z
Mariano Martinez Bastida
ESP
4
69.94 sec
bay / 14y. / G / ZANG / Berlin / Darco / 104SD95 / Eveline Bettinger
18.
6
Mumbai
Christian Kukuk
GER
4
70.43 sec
grey / 11y. / S / BWP / Diamant de Semilly / Nabab de Reve / 106BE04 / Beerbaum Stables GmbH
19.
66
King van Essene
Thibeau Spits
BEL
4
70.51 sec
grey / 13y. / S / BWP / Calido I / Chacco Blue / 104TA88 / Carlos De Cock
20.
74
Dexter de Kerglenn
Jeanne Sadran
FRA
4
71.28 sec
bay / 10y. / S / SF / Mylord Carthago / Diamant de Semilly / 106HQ90 / Chev'el
21.
23
Cala Mandia
Katrin Eckermann
GER
4
71.33 sec
dches / 10y. / M / WESTF / Capistrano / Valentino / 106NG21 / Christian Glanemann
22.
17
Aretino 13
Gilles Thomas
BEL
4
72.04 sec
bay / 15y. / G / HOLST / Artani / Caretino / 104NP29 / Hong Meng, Ge Chao, Yongjun Zhang
23.
84
HHS Calais
Michael Pender
IRL
4
72.19 sec
bay / 12y. / G / ISH / Cavalier Royale / Obos Quality / 105XM93 / Bravo Hughes Ltd
24.
52
Fellow Castlefield
Edwina Tops-Alexander
AUS
4
73.06 sec
bay / 13y. / G / KWPN / Je T'aime Flamenco / Twister / 104YN50 / Athina Onassis, Victory Equestrian Sport BV
24.
63
Bingo du Parc
Harrie Smolders
NED
4
73.06 sec
chest / 12y. / G / SF / Mylord Carthago*HN / Diamant de Semilly / 105AQ88 / Copernicus Stables LLC, Harrie Smolders
26.
57
Cartier SR
Nina Mallevaey
FRA
4
73.19 sec
grey / 11y. / S / HOLST / Canturenter / San Patrignano Cassini / 106FB33 / Rein Family LLC.
27.
86
Chakira Z
Santiago Nuñez Riva
ESP
4
73.80 sec
bay / 11y. / M / ZANG / Crown Z / Quidam de Revel / 106BK82 / Campos De Nembro S.L.
28.
79
King Kong d'Avifauna
Suus Kuyten
NED
4
73.96 sec
black / 13y. / G / BWP / Think Big van T L / Kashmir van Schuttershof / 105EF13 / Suus Kuyten Horses BV
29.
70
Koblenz vd Middelstede
Derin Demirsoy
TUR
5
74.98 sec
bay / 13y. / G / BWP / Diktator van de Boslandhoeve / Muscaris d'Ariel / 105PM51 / Jos Lansink Horses Bvba & Demirsoy Equstrian Scrl
30.
54
Oak Grove's Laith
Samuel Hutton
GBR
6
75.47 sec
chest / 12y. / S / SF / London / Quaprice / 105IR03 / Caramello Company
31.
38
Uno de Cerisy
Edward Levy
FRA
8
65.87 sec
bay / 15y. / G / SF / Open Up Semilly / Siego / 104FP01 / S.A.R.L. Edward Levy Stables, Franck Levy
32.
35
Glamour Girl
Henrik von Eckermann
SWE
8
67.76 sec
bay / 12y. / M / KWPN / VDL Zirocco Blue / Caletto I / 105UM04 / Portfolio Horses LLC
33.
45
Ben 431
Gerrit Nieberg
GER
8
68.81 sec
bay / 12y. / G / WESTF / Sylvain / Quincy Jones / 106AO58 / Hendrik Snoek, Lars Nieberg
34.
27
Chalou
Emanuele Gaudiano
ITA
8
69.55 sec
chest / 14y. / G / OS / Chacco-Blue / Baloubet du Rouet / 104MK27 / Equita Kft, Gaudiano Sporthorses S.R.L.
35.
11
Babalou HD
Abdulrahman Alrajhi
KSA
8
70.67 sec
bay / 11y. / G / WESTF / Balous Bellini / Newcastle / 106EU78 / Saudi Arabian Equestrian Federation
36.
67
Drako de Maugre
Patrick Stühlmeyer
GER
8
70.88 sec
chest / 10y. / S / SF / Kannan / Fusain du Defey*HN / 106EL68 / Paul Schockemöhle
37.
7
Carte de Blue PS Marathon
Francisco José Mesquita Musa
BRA
8
71.50 sec
chest / 11y. / G / OS / Cartoon / Chacco-Blue / 106OI44 / Daniel Aguiar Morelli, Special Marathon
38.
9
Maurice
Omer Karaevli
TUR
8
71.88 sec
bay / 11y. / G / BWP / Thunder van de Zuuthoeve / Eros Platiere / 107PV06 / Es Equestrian Team Holding BV
39.
98
Butterfly Ennemmel
Oliver Lazarus
RSA
8
71.91 sec
bay / 12y. / M / SF / Quaprice Bois Margot / Lux Z / 105YY53 / Team Equest Pty Lim.
40.
60
Mila
Eoin McMahon
IRL
8
72.14 sec
grey / 11y. / M / OS / Monte Bellini / Linton / 105WB92 / Ludger Beerbaum Stables GmbH
41.
55
Chance Ste Hermelle
Natalie Dean
USA
8
72.29 sec
bay / 15y. / M / SBS / Calvaro F.C. / Hemmingway / 104JI54 / Marigold Sporthorses, LLC
42.
40
Miss Blue Mystic Rose
Yuri Mansur
BRA
8
72.46 sec
bay / 10y. / M / Chacco Blue / VDL Zirocco Blue / 107VC29 / Clear Round B.V., Thalita Gorri Olsen De Almeida
43.
101
DMS Enkidu
Nicolas Pizarro
MEX
8
72.97 sec
grey / 12y. / S / SF / Ensor Vdh Pleville / Quidam de Revel / 105TT17 / Ariana Azcarraga
44.
26
Pegasus Jataki
Rodrigo Giesteira Almeida
POR
8
77.28 sec
chest / 9y. / G / KWPN / Jamal vd Heffinck / Waitaki / 106YR08 / Pegasus I Llp
45.
103
Quibelle
Spencer Smith
USA
9
74.24 sec
bay / 14y. / M / HANN / Frh Quaid / Stakkato / 105JD36 / Gotham Enterprizes LLC
46.
30
Kas - Sini DC
Sara Vingralkova
CZE
9
74.40 sec
bay / 13y. / S / BWP / San Patrignano Cassini / Darco / 105ON60 / Sara Vingralkova
47.
33
H&M Miro
Olivier Philippaerts
BEL
10
75.16 sec
chest / 11y. / G / BWP / Diamant de Semilly / Kannan / 105LO46 / Charlotte Söderström, Team Philippaerts
48.
109
Tornado VS
Armando Trapote
ESP
12
70.19 sec
bay / 12y. / G / HOLST / Toulon / Contender / 105JJ47 / Yeguada Valbanera S.L.
49.
14
Z7 Ipswich
Shane Breen
IRL
12
71.02 sec
chest / 15y. / G / BWP / Carembar de Muze / Quick Star / 104OJ78 / Shane Breen, Team Z7
50.
43
Acoufina PS
Manuel Fernandez Saro
ESP
13
74.95 sec
chest / 11y. / M / OS / Action-Breaker / Contefino / 105ZR26 / Alda Investments S.L.
51.
16
Nikias vd Bisschop
Frank Schuttert
NED
21
74.01 sec
chest / 10y. / G / BWP / Echo van T Spieveld / Nabab de Reve / 105YF20 / Schuttert Holding
42
Pablo van het Geinsteinde
Michael Duffy
IRL
RT
chest / 8y. / S / BWP / Freeman VDL / 107LJ05 / Martin Flesk, Michael Duffy
TROFEO CAIXABANK - Second GCL Competition
Int. jumping competition against the clock (1.60 m)
Table A, FEI Art. 238.2.1 - CSI5*
Counts for the Longines Ranking - Group A
Competition counting for the GCL Ranking
Qualifying competition for LGCT Grand Prix