LONGINES GLOBAL CHAMPIONS TOUR GRAND PRIX OF CANNES
presented by VOLVO Groupe Cavallari
Int. jumping competition with jump-off (1.60 m)
FEI - Art. 238.2.2 - CSI5*
Competition counts for LONGINES RANKINGS
Competition counts for the Longines Global Champions Tour Ranking 2022
1.
14
Bingo Ste Hermelle
Daniel Deusser
GER
0
79.83 sec
0
34.62 sec
chest / 11y. / S / SF / Number One d'Iso / Diamant de Semilly / 105QI66 / Equus Terra SPR de RL de CV
100.000,00 EUR
2.
99
Theodore Manciais
Spencer Smith
USA
0
77.27 sec
0
34.90 sec
bay / 15y. / G / SF / Kashmir van Schuttershof / Power Light / 103VO49 / Ashland Farms
60.000,00 EUR
3.
22
Faltic HB
Ben Maher
GBR
0
78.23 sec
0
35.68 sec
bay / 12y. / S / KWPN / Baltic VDL / Concorde / 104PI07 / Oakingham Stud
45.000,00 EUR
4.
47
Eic Coriolis Des Isles
Max Kühner
AUT
0
78.14 sec
0
37.40 sec
chest / 10y. / S / SF / Zandor / Tlaloc M / 105XJ26 / MK Sportpferde Max Kühner
30.000,00 EUR
5.
91
High Five
Fernando Martinez Sommer
MEX
0
79.78 sec
4
36.44 sec
chest / 10y. / G / KWPN / Glasgow v. Merelsnest / Corland / 106GH71 / Fernando Martinez Sommer
17.000,00 EUR
6.
100
Dialou Blue PS
Kevin Staut
FRA
0
79.76 sec
8
37.68 sec
bay / 9y. / M / OS / Diarado's Boy / Chacco-Blue / 106TW78 / DS Studio Dariusz Slupczynski
13.500,00 EUR
7.
26
Darc de Lux
Andreas Schou
DEN
4
76.62 sec
bay / 11y. / S / HOLST / Darco / Contender / 105IC03 / Schou Absolute Horses A/s
9.000,00 EUR
8.
75
Solid Gold Z
Christian Ahlmann
GER
4
76.87 sec
bay / 11y. / S / OLDBG / Stakkato Gold / Calvin Z / 105JK30 / Christian AHLMANN,Stoeterij Zangersheide
7.500,00 EUR
9.
44
Brazyl du Mezel
Francois Xavier Boudant
FRA
4
77.63 sec
chest / 11y. / G / SF / Haloubet de Gorze / Apache d'Adriers / 105TQ65 / Lionel Maurice
6.000,00 EUR
10.
39
RMF Zecilie
Jessica Springsteen
USA
4
77.76 sec
bay / 15y. / M / HOLST / Acolord / Canturo / 104DP57 / Rushy Marsh Farm LLC
6.000,00 EUR
11.
67
Monaco
Harrie Smolders
NED
4
78.03 sec
bay / 13y. / G / HOLST / Cassini II / Contender / 105LH22 / Evergate Stables LLC,Harrie Smolders
3.000,00 EUR
12.
85
Kriskras DV
Bart Bles
NED
4
78.17 sec
bay / 12y. / G / BWP / Cooper van de Heffinck / Kashmir van Schuttershof / 105NK40 / SF Equestrian
3.000,00 EUR

Total: 300.000,00 EUR

13.
34
Fiumicino van de Kalevallei
Jur Vrieling
NED
4
78.43 sec
bay / 11y. / G / SBS / Plot Blue / Nabab de Reve / 105LR03 / SF Equestrian B.V.
14.
52
Zarkava Hero Z
Johnny Pals
NED
4
78.87 sec
bay / 11y. / M / ZANG / Zandor Z / Calvaro Z / 105SI12 / Tanguy de Coninck
15.
81
Hello Shelby
Scott Brash
GBR
4
79.17 sec
bay / 13y. / G / HANN / Stolzenberg / For Pleasure / 104HJ94 / Lady Pauline HARRIS,Lady Pauline KIRKHAM
16.
16
Beauville Z
Maikel van der Vleuten
NED
4
79.63 sec
bay / 12y. / G / ZANG / Bustique / Jumpy Des Fontaines / 105FS95 / Pontegadea Espana slu Marta Ortega Perez
17.
4
Claire Z
Pieter Devos
BEL
4
80.06 sec
bay / 14y. / M / ZANG / Clearway / Coronado / 104FM61 / Devos Stables,Stal de Leygraaf
18.
64
Moya v. Bisschop
Nicola Philippaerts
BEL
4
81.17 sec
bay / 10y. / M / BWP / Darco / Utrillo van de Heffinck / 105ZM63 / Team Philippaerts,Ben BEEVERS
19.
82
H&M Legend Of Love
Olivier Philippaerts
BEL
4
81.87 sec
grey / 16y. / M / DSP (SATHÜ) / Landzauber / Corgraf / 103KW09 / Team Philippaerts
20.
1
Dreamland
Eric Van der Vleuten
NED
4
82.69 sec
chest / 11y. / G / SF / Sunday de Riverland / For Pleasure / 105AG85 / Pontegadea Espana slu Marta Ortega Perez
21.
33
Tinka's Hero Z
Simon Delestre
FRA
8
78.21 sec
bay / 11y. / S / ZANG / Tinka's Boy / Caretino / 105PB01 / Monsieur Philippe Felt
22.
79
MTM Vivre Le Reve
Brian Moggre
USA
8
78.62 sec
dbay / 13y. / G / WESTF / Ustinov / Chello II / 104PW45 / Major Wager LLC
23.
24
Delux van T & L
Niels Bruynseels
BEL
8
78.89 sec
bay / 13y. / G / SBS / Toulon / Landetto / 104TT43 / Niels BRUYNSEELS,Global One Horses Ltd.
24.
66
Vannan
Jeanne Sadran
FRA
8
79.74 sec
bay / 13y. / S / SF / Kannan / 104WT77 / Roshoeve Nv
25.
28
Chakra 9
Eoin McMahon
IRL
8
81.17 sec
grey / 12y. / M / HOLST / Casall / Quidam de Revel / 105CH56 / Ludger Beerbaum Stables
26.
2
Cor-Leon v. Vlierbeek Z
Lily Attwood
GBR
8
82.10 sec
bay / 12y. / G / ZANG / Calvaro F.C. / Omar / 105LY33 / Emmy Freeman-Attwood
27.
88
Caracole de la Roque
Julien Epaillard
FRA
11
89.44 sec
bay / 10y. / M / SF / Zandor Z / Kannan*Gfe / 106HF61 / Eurl Top Stallions Company
28.
8
Bluemuch Des Baleines
Roger Yves Bost
FRA
12
76.06 sec
bay / 11y. / M / SF / Chacco-Blue / Clinton / 105ND77 / E.A.R.L. Barbizon Horse,Equiblue
29.
40
Wicked Enigma
Sameh El Dahan
GBR
12
77.39 sec
grey / 10y. / M / HOLST / Cellestial / 105MN19 / Joanne Sloan Allen
30.
30
Kalinka van de Nachtegaele
Angelica Augustsson Zanotelli
SWE
12
81.15 sec
chest / 12y. / M / BWP / Epleaser van T Heike / Cicero Z / 105FD99 / Angelica Augustsson Zanotelli,Rostal NV
31.
56
King Edward
Henrik von Eckermann
SWE
14
88.37 sec
chest / 12y. / G / BWP / Edward 28 / Feo / 105PY55 / Dufour Stables Ag
93
SFS Vincomte
Anthony Condon
IRL
EL
bay / 12y. / G / AES / Veni v.d. Vici / Magic Darco / 105AL35 / Anthony Condon,Pat Hales
37
Checker
Christian Kukuk
GER
RT
grey / 12y. / G / WESTF / Comme Il Faut 5 / Come On / 104YP79 / M.H. & Partner Gbr,Madeleine WINTER-SCHULZE
62
Salt'N Peppa
Jodie Hall Mcateer
GBR
RT
dchst / 13y. / G / HANN / Stolzenberg / Escudo 19 / 105AT75 / Mandy Hall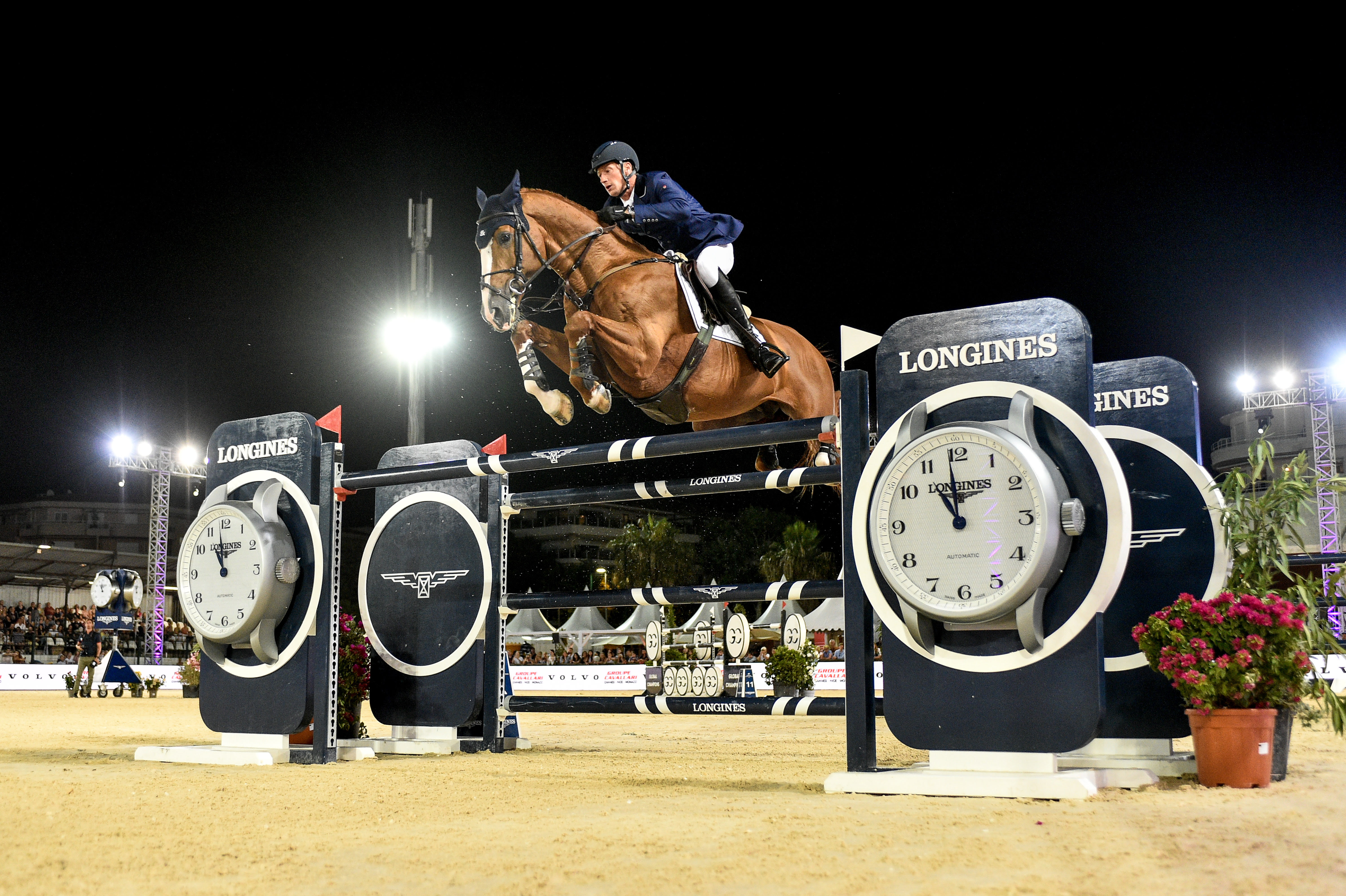 Nota de prensa
Daniel Deusser dazzles in rollercoaster Longines Global Champions Tour Grand Prix of Cannes
It was an evening of explosive top sport as Daniel Deusser and Bingo Ste Hermelle risked it all as first to go in the jump-off and triumphed in the dazzling Longines Global Champions Tour Grand Prix of Cannes presented by Volvo Groupe Cavallari.

Deusser reigned supreme in Cannes winning a supercharged jump-off against the heavyweight stars of show jumping just 0.23s ahead of Spencer Smith and Theodore Manciais in second. Ben Maher and Faltic HB claimed the final spot on the podium next to the shores of the Mediterranean for the 7th leg of the Longines Global Champions Tour circuit.

Smiling and waving to the crowd Deusser told GCTV: "I am very very very happy with my little horse tonight. First to go in the jump-off is never easy. I took all the risks to the last fence, it is a great atmosphere here tonight and a great jump-off but of course, I wanted to be number 1. Bingo really fights for me and wants to win in the ring."

Deusser's victory means he is the latest to earn a coveted place at the Longines Global Champions Tour Super Grand Prix later this year he said: "Prague is one goal for every rider here. The sooner you qualify the better it is and I am happy and lucky I did it today."

François Bourey - President of the Jumping International de Cannes said: "A successful return! We were sold out this evening, which proves that the jumping was really expected. Next year will be the 40th edition of the competition and we are determined to make it a great celebration. It will be a special moment. We have started to talk about it with Jan Tops this evening and we have some great projects to work on in the coming months. First of all, I would like to thank the city and Mr David Lisnard, Mayor of Cannes, who has always supported the competition and made sure that the Jumping is held in optimal conditions. I approached this 39th edition as if I were organising my first international and felt the same emotions as when I started, which is absolutely wonderful. The organising team, the public, the volunteers, the atmosphere, the sponsors present, everything was great. See you in 2023!"

Tonight's showdown also had a big impact on the overall season rankings. Christian Ahlmann extends his lead to 148 points while Pieter Devos stays in second on 139 points. Niels Bruynseels is now just 3 points ahead of Ben Maher on 124 and 121 points respectively.

It was a rollercoaster start to the LGCT Grand Prix of Cannes as course designer Uliano Vezzani's tough first round track triggered multiple faults and retirements from a string of top riders. Under floodlights and in hot temperatures on the French Riviera, more major players tumbled out of the 1.60m class leaving just 6 to go through to the jump-off.


Roaring result for Prague Lions as they convert pole position to win in GCL Cannes
It was a full house at the Cannes showground and the excitement rose as the crowd went wild as first to go in the jump-off Daniel Deusser and Bingo Ste Hermelle entered the sand arena. The atmosphere was electric as the top combination set off flying to the first fence but it was his flat out gallop to the final fence where he risked it all in 34.62s that put pressure on the rest of the world class field.

The race was on as Max Kühner rode another double clear even taking one less stride than Deusser in the first line but he couldn't match the pace stopping the clock in 37.40. The temperature soared as home hero Kevin Staut and the youngest in the field Dialou Blue PS rocketed around the shorter course but with two down ending their chances of a home win.

Looking for his ticket to the LGCT Super Grand Prix still, Ben Maher was determined as ever to take the win in Cannes. Taking one less stride than Deusser in the first and penultimate lines Maher shook his head with disappointment as he stopped the clock slower than Deusser clear in 35.68s

The bar was set high but Spencer Smith and Theodore Manciais were not intimidated. Making good use of Theodore's long stride, the America star gained time between fences but an extra check to the final fence meant he crossed the finish line just fractions of a second behind stable mate Deusser in 34.90.

Last to go Fernando Martinez Sommer and High Five gave it their best shot but they were a second down on the time to beat at halfway and a costly rail put them on four faults, off the podium and handing the win to the German tonight.

The Longines Global Champions Tour now heads to Stockholm from 17 - 19 June for the eighth stage of the dramatic Championship race.
Prague Lions' Pieter Devos and Niels Bruynseels pulled out an oscar-winning performance in tonight's GCL Cannes, converting their pole position into a second win of the season and catapulting up to second in the overall championship race on the French Riviera.
Tonight's GCL Cannes presented by Constance Hotels was a blockbuster, with drama right down to the final fence as Lions rose to the win. Shanghai Swans Christian Ahlmann and Max Kühner managed to hold onto second, with the formidable duo of Eric and Maikel van der Vleuten teaming up for Madrid In Motion - and delivering to take third.
The drama meant there was a major shuffle in the overall rankings, as teams fight to stay in the top four and fast track their way through to the GCL Super Cup Semi-Final at the GC Prague Playoffs. Holding onto their lead are the Berlin Eagles, now on 133 points, however, Prague Lions have jumped up to second place with just a two point difference, sitting on 131 overall. Stockholm Hearts drop to third with 128 but look dangerously close to being overtaken by Madrid In Motion, sitting on 126 points overall.
Pieter Devos praised the Prague Lions' teamwork and tactics:
"We did a fantastic job here by managing our team very well. The first day Brian rode very well and then today we brought Niels in with a very fresh horse and of course a very good rider so I think we did good tactics to stand here on top of the podium."

Bruynseels spoke to GCTV about their win today:
"I knew I had to go clear so at least I knew what I had to do. My horse is in very good shape and I trusted in him today. We are only halfway in the season but we are very happy with the performance of the whole team."
As fans packed the grandstands in Cannes, and VIPs walked the red carpet, the sun began its slow descent over La Croisette - lengthening shadows across the arena and giving the horses plenty to look at.
Uliano Vezzani's course afforded no mistakes, with any lack of rhythm and balance repaid with fences falling everywhere. The technical track was extremely delicate with no team managing to jump a double clear today.
One team to rise were New York Empire - the team carrying through a score of 16 from Round 1. A rub for Scott Brash and Hello Mr President put them onto 20 in total, but a brilliantly quick clear from Spencer Smith kept them there and helped them climb 5 places overnight.
Scandinavian Vikings made a strategic change, bringing Henrik von Eckermann in to compete alongside Yuri Mansur, but it wasn't enough after a clear from King Edward, an unusual 12 for Mansur meant the team would drop down the order.
There was disappointment for the London Knights and Hamburg Giants, with both teams dropping down the order after uncharacteristically big scores from Mike Kawai and Jur Vrieling.
Paris Panthers pulled out the big guns, with Harrie Smolders and Ben Maher bringing out top rides Monaco and Faltic HB once again for the second round. A late pole fell for Smolders picking up four faults but a clear for Maher this time put the team on a total of 11 faults and finished just outside the top 5 picking up much-needed championship points.
Ranking leaders Berlin Eagles made no changes to their team but one down each from Christian Kukuk and Eoin McMahon meant the duo would finish off the podium today and fighting to stay on top of the Championship.
Despite a clear from Nicola Philippaerts and Moya v. Bisschop, the Stockholm Hearts had to settle for fourth place overall after a slow four fault round from Olivier Philippaerts and H&M Legend of Love meant they were one of the slowest teams on 8 faults overall.
2019 GCL Cannes winning father and son duo of Eric and Maikel van der Vleuten were inches away from back to back wins in front of team owner Marta Ortega. A fault mid-course for Eric and Dreamland added heaps of pressure to his son. Riding his Olympic Bronze medalist mount Beauville Z he stopped the clock in a super-fast time with 0 faults on the board guaranteeing them a podium today.
Shanghai Swans were the last of the teams to enter on a score of 4 faults and made just a single horse change to their line-up. Christian Ahlmann was first to go with Solid Gold Z, despite the pressure the German delivered, bringing home a clear for his team and keeping them in sight of a win. An early pole for Max Kühner and Up Too Jacco Blue heaped the pressure on their remaining round but it was a fast time to slide ahead of the Hearts and wait to see if it was a win or second place.
Final team to go, Prague Lions had all the pressure on their shoulders - another double clear would guarantee them the win. Pieter Devos entered the ring as first to go with Claire Z, they had an unlucky pole meaning it all came down to Niels Bruynseels with Delux van T & L. They delivered the goods and crossed the finish clear to clinch the win and power the Lions up the rankings.
GCL now heads to the Swedish capital of Stockholm from 17 - 19 June where it will be a battle of the best at the mid way stage of the season and crucially the last event before the mid-season transfers.