Paul O'Shea and Chancelloress captured the top prize. © Sportfot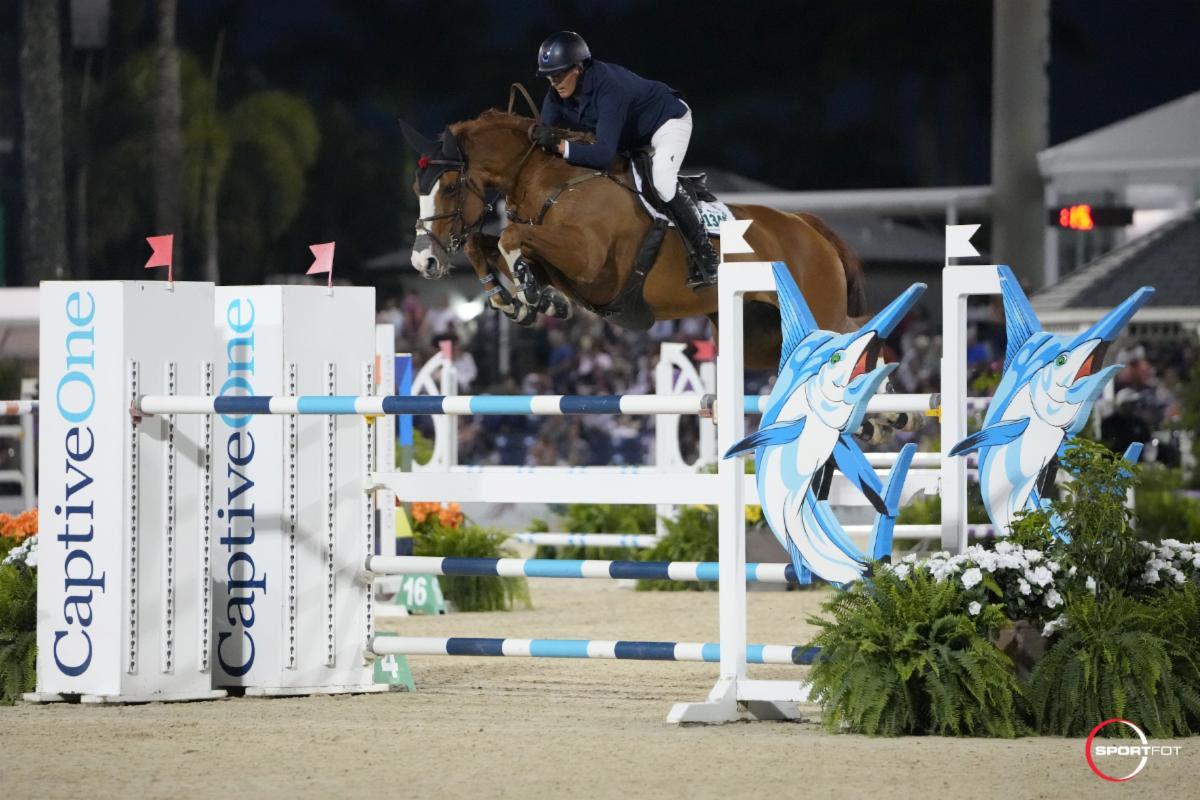 Mark McAuley and O'Hara ELS. © Sportfot
Laura Chapot and Chandon Blue flying to the win. © Sportfot
Nota de prensa
Competition for "Saturday Night Lights" during week 11, sponsored by the
Palm Beach County Sports Commission
, of the 2022 Winter Equestrian Festival (WEF) was packed with action during the circuit's penultimate week. While hunter riders had the opportunity to take center stage on the Derby Field at Equestrian Village over the weekend in both international and national derby events, show jumpers took to the Wellington International Arena to compete for the top prize in the $140,000
CaptiveOne Advisors
1.50m Championship Jumper Classic Final. In a mad dash across the finish line, Paul O'Shea (IRL) and Chancelloress claimed the leading spot.
The night culminated with both an overall series champion as well as the final class winner. Spectators in the night's crowd were treated to extra excitement as the new name of the venue, Wellington International, was revealed prior to the first horse on course. Course designer Olaf Petersen Jr. (GER) raised an
impressive challenge to the field of 48 starters representing 17 nations, and
only five of the original entries managed to earn a slot for the short track. The
jump-off came down to a battle between the U.S. and Ireland as Spencer Smith (USA), Laura Kraut (USA), and Alex Matz (USA) took on countrymen Mark McAuley (IRL) and O'Shea.
With three to follow, McAuley was the first to produce a double-clear effort in a tidy time of 36.97 seconds aboard LT Competition's 10-year-old CH mare O'Hara ELS (Ogano Sitte x Liandero). However, the taste of victory didn't last quite as long as hoped when O'Shea immediately followed and shaved over a second off of McAuley's effort in 35.51 seconds.
"I knew Alex would be fast, and that Laura was after me too," explained O'Shea. "I didn't get to see Mark go but he is always fast, so I just tried to do the best round that I could."
O'Shea credited his mount with rising to the occasion for the class and has high hopes for the end of season with the Trelawny Farms' 13-year-old Hanoverian mare (Chacco-Blue x Balou Du Rouet).
The Irish also took the overall victory of the CaptiveOne Advisors 1.50m Championship Jumper Classic Series as Shane Sweetnam was named the leading rider through the entirety of the circuit. Despite never having worn the winning cooler, Sweetnam's consistency and six top-five placings throughout the season with four different mounts was enough to earn the honors.